< Back
The Luxury of An Outdoor Fireplace in a Small Yard
Do you believe that your small yard is not suitable for an outdoor fireplace? Think again! At My Fireplace, we offer a diverse range of stunning outdoor fireplaces specifically designed to elevate small yards. Don't miss out on the opportunity to gather with your loved ones and create lasting memories around the mesmerizing warmth and flickering flames of these carefully crafted fire features. Let's delve into the details of five unique outdoor fireplaces that will transform your small yard into an inviting and enchanting space.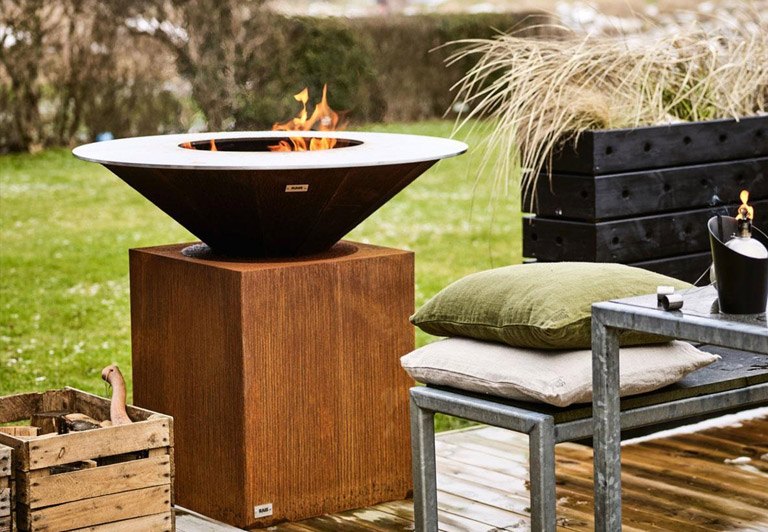 The Best Outdoor Fireplaces for Small Yards
1. The Jotul Loke: Weatherproof Design for Year-Round Enjoyment
The Jotul Loke is not just another outdoor fireplace; it's a weatherproof marvel that can withstand the elements throughout the seasons. Crafted for durability and style, this wood-burning fireplace becomes the focal point of your small yard. Gather around its crackling flames and immerse yourself in the cozy ambiance that has become the talk of the town.
2. The Jotul Terrazza: Showcasing the Beauty of Wood-Burning Craftsmanship
Indulge in the visual masterpiece that is the Jotul Terrazza, an outdoor wood-burning fireplace designed to captivate. Made from Corten steel, this remarkable fireplace weathers gracefully, developing a unique patina over time. As you enjoy its radiant warmth, you'll also appreciate the artistry and craftsmanship that elevate your small yard to new levels of beauty.
3. The Rais Circle: Harmonizing Beauty and Functionality
Embrace the perfect combination of aesthetics and practicality with the Rais Circle. This versatile outdoor bonfire stove not only provides a mesmerizing focal point but also serves as a cooking companion for delightful culinary adventures. As time passes, the Rais Circle ages gracefully, gaining a beautiful patina that enhances its charm. Experience the seamless integration of beauty and functionality in your small yard.
4. The Rais Gizeh: Sculptural Elegance and Engaging Conversations
Ignite conversations and add an artistic touch to your small yard with the Rais Gizeh, a sculptural outdoor wood-burning fireplace. Crafted from weathered Corten steel, this captivating centrepiece ages gracefully, acquiring a rich patina that enhances its allure over time. Create an inviting atmosphere that sparks engaging discussions and becomes the heart of your outdoor gatherings.
5. The Regency PTO30: Endless Possibilities with Gas-Powered Convenience
If you prefer the convenience of gas-powered flames, the Regency PTO30 offers versatility and style. This outdoor gas fireplace burner provides endless possibilities for fire features, ranging from 30 to 100 inches, catering to your unique preferences. Elevate your small yard with the allure of gas flames, allowing you to create a warm and welcoming atmosphere effortlessly.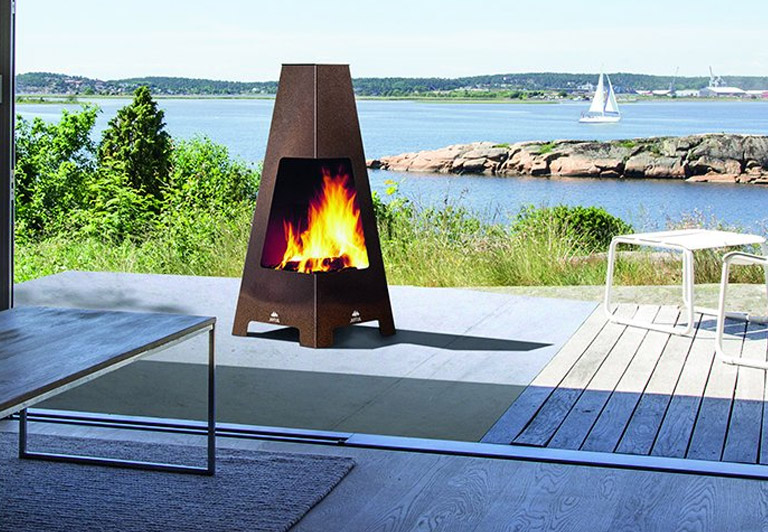 Transforming your small yard into a captivating oasis is now within reach with our collection of stylish outdoor fireplaces. Whether you opt for the weatherproof durability of the Jotul Loke or the sculptural elegance of the Rais Gizeh, each fireplace adds its distinct touch of charm to your outdoor space. Delight in the crackling flames, captivating designs, and functional features that turn your small yard into a cozy haven for memorable gatherings with family and friends. My Fireplace invites you to embrace the enchantment of outdoor fireplaces, creating cozy moments and lasting memories in even the smallest of yards.

To view these and other models, visit one of our two locations:
43993 Talbot Line Hwy #3, St.Thomas 519-633-4256
4026 Meadowbrook Dr., Unit 109, London 519-652-2774